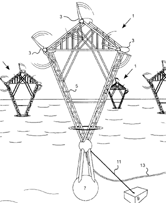 A Library Collection About William E. Heronemus, Captain, USN Ret.; Professor Emeritus, University of Massachusetts, Amherst

In this collection you will find many of the 'Captain's' works, including patents, papers, articles and more.
Published Papers, Presentations and Articles -
Articles About WEH -
The Life and Work of Bill Heronemus,Wind Engineering Pioneer - by Woody Stoddard
REPRINTED FROM WIND ENGINEERING VOLUME 26, No.5, 2002 (this article forms the basis of the 'About WEH page')
Heronemus, The Wind King - An article from QUEST magazine that explores Bill's worldview and work on renewables.
Smithsonian or Bust - The original UMass Wind Furnace turbine contained many unique design elements that are now common in the wind industry. The WF-1 turbine has now been retired to the Smithsonian Institute in Washington DC.
Patents -
This site was last updated 11/30/11